Our love story had it's share of twists and turns, but ended up as all fairy tales do….
"Living Happily Ever After…"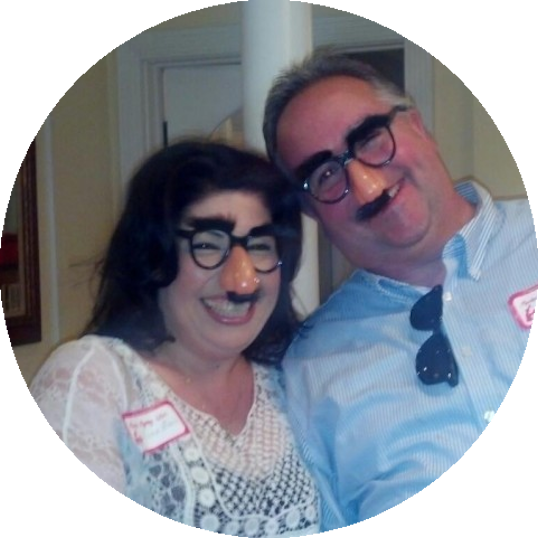 Classy from Day One.
You are what I never knew I always wanted
Right from the start…  A class act.  This is a photo of our first date, after talking on the phone for weeks.  It was a Murder Mystery Dinner, in West Los Angeles.  About 50 others had bought tickets for the event also, and unknown to us, there were a few actors spread around the group.  As the dinner progressed, people got shot, stabbed, poisoned, and disappeared.  In came the police (more actors), and the game was afoot.
The object of the evening is to solve the case.  Of course, they have a booby prize for the couple that got it so far off it stank.  Enter Michael and Annamarie.  We proudly wore our booby prize, as pictured, and had an incredible time.  Our chemistry was so strong that most other guests at the event were convinced that we were actors and part of the troupe.  It was an amazing evening full of romance, laughs and crazy.
The Proposal
She never saw it coming.
I took her to our favorite place.  The beach.  We sat on a bench on the pier and she thought I grabbed a guy walking by to snap a picture of us.  What I actually told him was to start snapping and don't stop.  Just hold down the shutter button.  When he said cheese, I got down on one knee, proposed and we got it all on film.
When she realized what was happening, she fell to pieces, in front of an ever growing crowd, who cheered and clapped.  It was a very special moment in time.  We go back to our bench often, on the Huntington Beach pier.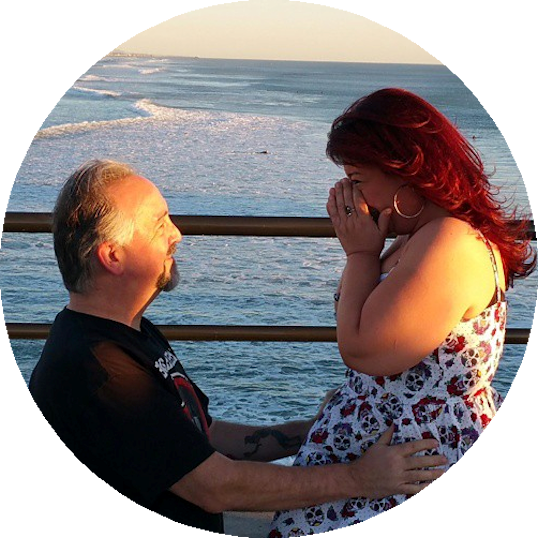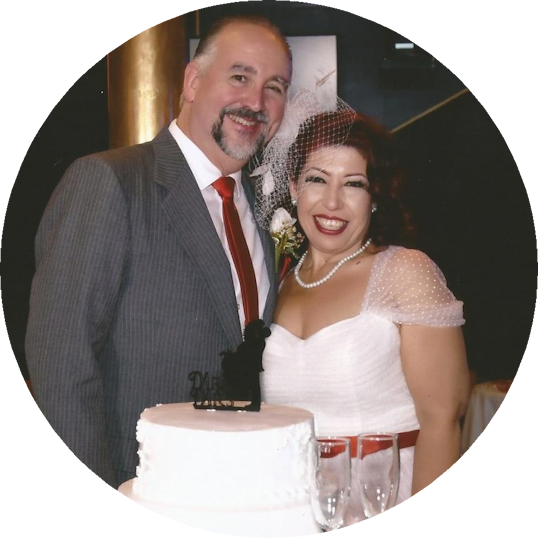 Our Wedding
The Greatest Event Ever!
Fifty of our closest friends climbed aboard the Carnival Imagination in Long Beach Harbor for the memorable event.  The ceremony took place in one of the big showrooms onboard, and the reception in one of the many nightclubs.
The ship opened up the entire buffet for our guests and there was an open hosted bar. Everyone ate and drank themselves crazy while we danced, cut the cake, did our first dance, and spent time with our guests.  After the party was over, our guests departed and we sailed off into the sunset, and had a phenomenal honeymoon.
And Last…  Our Home.
Our little love nest.
From the day we were married, we were determined to own our own home again.  It turned out to be a monumental struggle, but we prevailed.  It took every single cent we had, and quite a few we didn't, but somehow it all came together out of sheer will.
We were able to design our dream home ourselves, it was a labor of love between the both of us.  This is it folks, this will be our happy ending place.
A change of careers, a rural area away from the big city and a life together after our children are raised and living their own lives.  It's now a time to enjoy grandchildren, travel and enjoy each other.  Our story is now complete.